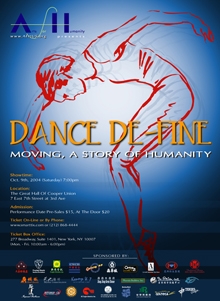 click to enlarge
Welcome to Dance De-Fine, an event sponsored by Arts For Humanity.

Following last year success in its music fest Music Momentum, Arts For Humanity (AFH), a not-for-profit organization with 501(C)(3) status, presents its first dance event Dance De-Fine entitled "Moving, A Story of Humanity" to be held on October 9th,2004.

The October Dance De-Fine Program will feature a twelve-piece dance repertoire that tackles the theme of humanity. The show will open with the renowned Mid-Eastern belly dance master Serena Wilson and will be highlighted by a blend of modern ballet, flamenco,hiphop, South Indian, Japanese contemporary, Chinese rhythmic and modern dance performed by a new generation of rising dancers of diverse disciplines and tenets.

Driven by sincerity and compassion, these local talented artists, choreographers and dancers, will share the stage in coherently bringing out twelve pieces of repertory that approach human aspirations and emotions with honesty; each of their stretching stride and beautiful arch will exhibit their expression of delight, ecstasy, agony, chaos and conflicts of this generation.

Reinventing the rules of relished body movements, a phenomenal story of humanity will be told in a showcase of unprecedented dance variance and uniqueness rarely found in today's dance scene.